Manufacture & Engineering Repairs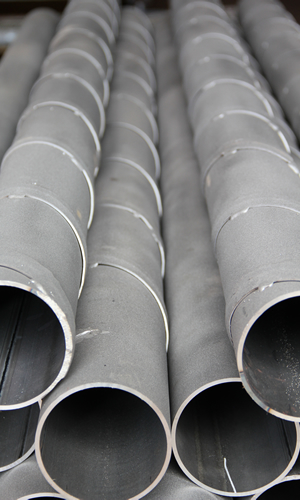 Our Engineering Department, comprising of a team of highly skilled and experienced engineers, provides a comprehensive in-house manufacturing, repair and maintenance service for our customers, as well as playing a vital role in Research and Development. This includes, but is not limited to:
Manufacture of new rollers – up to 3500mm (length) and 150mm (dia)
Production of metal roller shaft
Roller straightening – up to 3 metres in length
Adaptations to rollers to improve the peeling process
Customised welding and turning
Repairs and replacement of worn parts, repair of damaged shafts
Replacement of roller scrolls
Refurbishment of batch peeling machines
Bending of 3 metre wide steel sheets (3mm thick stainless, 5mm thick mild steel)
Due to increased customer demand for specialist engineering skills, we installed additional equipment including a Safan hydraulic press brake and a Dean, Smith & Grace lathe with an 11ft 6″ gap between the centres and a 17″ swing.
Other engineering services offered include turning, milling, drilling, mig and tig welding, controlled pyrolysis and shotblasting.
Find out more
To find out more contact us today on +44 (0)1205 356666 or email us.