TreadSafe® Anti Slip Flooring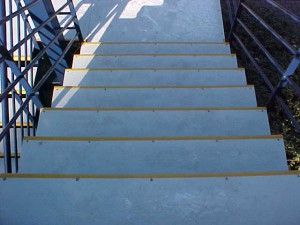 TreadSafe® Stainless and Treadsafe® GRP are abrasive-coated anti-slip flooring products that offer a cost-effective, long-term solution to slip problems in hazardous industrial and public access area. The range comprises stair treads, landing covers, flat decking sheets, ladder rung covers, grating and tactile floor tiles, and can be fitted to a variety of surfaces including chequer-plate, concrete, metal grilles, steel and wood using adhesive and /or mechanical fixings.
Applications include internal and external use on floors, stairs, ramps, walkways, external fire escapes and ladders.
Both product ranges are offered in a choice of sizes, colours, abrasive grit sizes and paint finishes.
Find out more
To find out more contact us today on +44 (0)1205 356666 or email us.