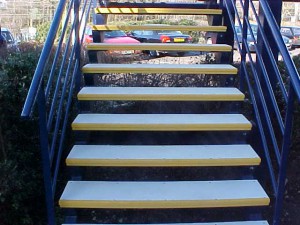 TreadSafe® abrasive coated, stainless steel flooring is a high performance anti-slip solution for hazardous areas.Probably the most robust anti-slip available, TreadSafe® is designed to withstand high volume pedestrian traffic and extremes of temperatures.
The range comprises treads, nosings, decking, cleats, ladder rung covers and anti slip discs and offers a permanent, rugged solution to slips, trips and falls in industrial, food, offshore and public access areas.
Find out more
To find out more contact us today on +44 (0)1205 356666 or email us.