TreadSafe® GRP flooring – the cost effective, anti-slip solution for industrial and commercial environments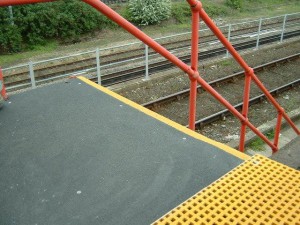 TreadSafe® GRP is manufactured from tough, durable fibreglass that incorporates an abrasive anti-slip to offer a cost-effective, long-term solution to slip problems in internal and external industrial environments and public access areas. Suitable for use in hazardous areas, TreadSafe® GRP is resistant to a wide range of chemicals. It can be cut and drilled on site for easy, quick fitting onto a variety of surfaces including chequer-plate, metal grills, concrete, steel and wood.
The range comprises safety edgings, stair treads with matching landing covers, flat decking sheets, grating, ladder rung covers and tactile floor tiles. A cut to size/drilling service is available.
TreadSafe® GRP meets the current UK Building Regulations and the Disability Discrimination Act Part 111.
Find out more
To find out more contact us today on +44 (0)1205 356666 or email us.